Does this listing belong to you or your company?
Create an account now and claim this listing.
Sonrise Preferred Properties
---
Phone Number:
303-909-7576
---
Business Address:
1966 South Vivian Street, Lakewood, CO 80228
---
Business Owner or Contact:
Alvin Granado, Broker Associate
---
E-Mail Address:
Alvin.Granado@gmail.com
---
Web Site Link:
http://www.redenverinfo.com
---
Fax Number:
303-989-9444
---
Company Description:
Residential, commercial real estate and business/investment consulting.
---
Favorite Bible Verse:
John 3:16
: "For God so loved the world that He gave His only begotten Son, that whosoever believeth in Him should not perish, but have everlasting life."
---
---
Categories:
Business Consulting
,
Commercial Real Estate
,
Featured
,
Real Estate
,
Residential Real Estate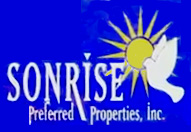 Click on these links to visit the various social media pages for this company.
---
---
This page has NOT been claimed. Please fill out this form to inquire about claiming this listing.