Color Magic
---
Phone Number:
303-907-0099
---
Business Address:
9633 W 87th Circle, Arvada, CO
---
Business Owner or Contact:
Brad McLean
---
E-Mail Address:
btmclean@juno.com
---
Fax Number:
303-420-1703
---
Company Description:
We can make a dramatic difference to the appearance of your car by painting the rock chips (from 10 to 1000+) on the hood, panels, and bumpers, and by fixing light scratches and scuff marks. Cheaper -- Save thousands by painting the chips instead of the car. Better -- No spraying, no needles, and no unsightly blobs means the end result is smooth and shiny. Faster -- Have your car looking dramatically better in about an hour. We use the Dr. ColorChip paint system which is the best system out there for quality paint chip repair for your vehicle.
---
Favorite Bible Verse:
Colossians 3:23
---
---
Categories:
Auto Body and Paint
,
Auto Detailing
,
Featured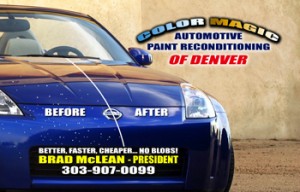 Click on these links to visit the various social media pages for this company.
This page has NOT been claimed. Please fill out this form to inquire about claiming this listing.